Thanks to all of the fans, performers, sponsors, vendors, and staff for a great 2021 season!
Please take a moment to fill out a survey and let us know about your Mentor Rocks experience.
If you are a performer and would like to be considered for Mentor Rocks or another Mentor event, in 2022, please click the following link and fill out the form.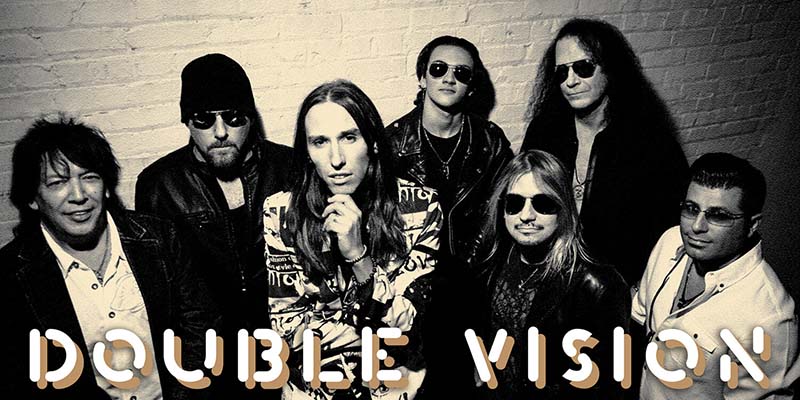 Boasting some of New York City's top professional rock musicians, Double Vision delivers the highest level of integrity and technical prowess, resulting in a legitimate tribute and authentic performance. Second to none at recreating the masterful songs Foreigner fans worldwide have come to love, Double Vision brings audiences an unforgettable experience with ear to ear smiles, singing, dancing and clapping along to some of the greatest hit songs from the 70's & 80's, including "Juke Box Hero," "Hot Blooded," "Cold As Ice," "I Want To Know What Love Is," "Urgent," "Double Vision," "Head Games," "Feels Like the First Time," and more!
Every Tricky Dick live show is its own experience; a fast moving, genre-spanning array of musical selections, a vivid and dynamic light show, and a high energy and engaging performance from its four members (Doug, Jeph, Matt and Tony). Week after week, new songs are added and a new playlist is created. Every show is unique; every performance is fresh.
Nightrain, The Guns N' Roses Experience pays tribute to one of the most iconic bands in history. This act gives a night of high energy rock 'n roll that never lets up.  Nightrain plays each song from the Appetite For Destruction album with stunning accuracy in regards to both attitude and Music. But it doesn't stop there. They play all the hits and most requested songs from the entire Guns N' Roses discography.
Bringing fans the music of The Dave Matthews Band for close to twenty years, Trippin' Billies has become the gold standard for tribute bands. Based out of Chicago, the Billies have toured extensively throughout the U.S. performing at many of the same theaters Dave himself once graced.
Cracker has been described as a lot of things over the years: alt-rock, Americana, insurgent-country, and have even had the terms punk and classic-rock thrown at them. But more than anything Cracker are survivors. Cofounders Lowery and Hickman have been at it for almost a quarter of a century – amassing ten studio albums, multiple gold records, thousands of live performances, hit songs that are still in current radio rotation around the globe ("Low," "Euro-Trash Girl," "Get Off This" and "Turn On, Tune In, Drop Out With Me" to name just a few), and a worldwide fan base. Learn More. 
July 4 | Darryl Worley
Celebrate Independence Day with us!  National country recording artist, Darryl Worley, will perform on the main stage at the Mentor Civic Amphitheater at 8:00 PM with a spectacular 25-minute fireworks display to immediately follow the concert. Worley is known for his soulful, down-to-earth vocal style and traditional country roots. The Tennessee native's career has spanned three decades with over 20 songs on the Billboard Country Hot 100 including number-one hits  "Awful Beautiful Life", "I Miss My Friend", and "Have You Forgotten".  Learn more.
The ultimate Bob Seger and The Silver Bullet Band experience! This NJ based powerhouse has set out to re-create everything about Bob and his music right down to the smallest detail. Determined to leave no stone unturned, HOLLYWOOD NIGHTS even tours with and hits the stage every night with a Baby Grand Piano!
July 13 | Kick
Are you ready for a new sensation? KICK- The INXS Experience will take you back. It will reignite your passion for INXS. It will introduce you to music that is still as fresh today as the day it was written; Original Sin to Elegantly Wasted and everything in between!
The legendary Lita Ford rocks Mentor with a blistering set of hits including "Kiss Me Deadly", "Hungry",  and "Close My Eyes Forever".   Ford helped pave the way for female rock artists everywhere as an original member of 70s teen sensations, the Runaways, whose hits included "Cherry Bomb", "Hollywood" and "Queens of Noise".    It doesn't get any hotter than this! Learn more.
No Duh mixes the experience & energy of a live No Doubt & Gwen Stefani concert with nostalgic visuals, styling's & props of the No Doubt & Gwen Stefani videos, complete with costume changes & even some humor! Close your eyes or keep them open, you will feel like you are experiencing the real thing. It's rare to see a tribute act excite an audience like this band.
With hundreds of concerts under his belt, Greg West, a tribute to Jason Aldean, has had an amazing first 7 years performing internationally for cheering crowds.
International touring sensation Uptown Funk invites you to experience the essence of Bruno Mars, his live band and the music that defines today's pop culture. If you are looking for entertainment that is exciting, fresh, fun, unique and full of energy for your next special event, accept no substitutes!
August 17 |  STP2
Mentor welcomes STP2 – A Tribute to the Stone Temple Pilots who will deliver the sounds and sights of the classic STP lineup whose string of alt-rock hits include Plush, Interstate Love Song, Big Empty, Creep, Wicked Garden, and many more.
August 24 | Queen Nation
Queen Nation returns to the Amp to deliver sounds and sights of the legendary Freddy Mercury and Queen! Audiences are amazed at the accuracy of Queen Nation's live retrospective journey through hits like We Will Rock You, Bohemian Rhapsody, Another One Bites The Dust, Under Pressure and many more!
Our hometown favorites return to close our the Mentor Rocks season! Focusing on the 'Steve Perry era', E5C4P3 covers all the hits from 'Lights' and 'Wheel In The Sky' to 'Separate Ways' and 'Be Good To Yourself' including occasional surprises for all the die-hard Journey fans.